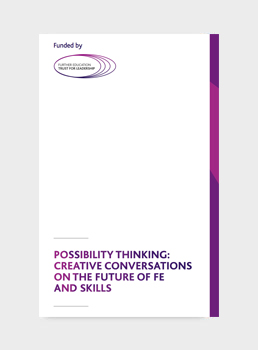 Possibility Thinking: Creative Conversations On The Future of FE and Skills
This paper explores and imagines three 'what if' responses to quality improvement which together could create a strong platform for establishing FE as a more widely recognised self-improving system.
The Further Education Trust for Leadership emerged in a period of significant turbulence in the further education and skills sector. Now, as we review our progress to date and enter a new phase in our activities, the sector appears to have reached yet another existential turning point. A range of factors, including curriculum change, funding cuts, area-based reviews and the government's commitment to the creation of three million new apprenticeship starts by the end of the current parliament, present not only challenges but also opportunities, for those prepared to raise their heads from day-to-day preoccupations and think boldly and creatively about the future and what it might hold. It is to just such thinking that this publication, the second substantial fruit of a project which began as a collaboration between FETL and the RSA, and which has been enriched by the participation of leaders from across the further education and skills sector, incites its readers.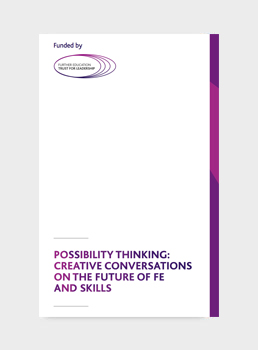 Download >