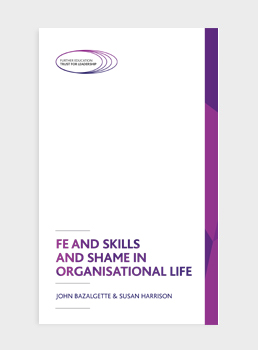 FE and Skills and shame in organisational life
JOHN BAZALGETTE & SUSAN HARRISON
Unsurprisingly, some resistance and even bemusement became apparent when I first suggested that shaming – and organisational shame, in particular – was a topic to which further education should give serious and sustained attention.
Some colleagues were not convinced, either of the relevance of the topic to further education or of its place within the remit of the Further Education Trust for Leadership (FETL). I want to explain our case for both, beginning with the latter.
I often describe FETL's work in terms of two domains of interest, distinct yet inter-dependent: the leader in the system and the system in the leader. By the leader in the system, I mean the professional place of leaders and leadership in the wider educational and social ecology. When the work is about the system in the leader, the concern is with the person who is also a leader, the ways in which that ecology, that system, is internalised in that person's life and values, how it relates to their culture, beliefs, ideas, character and disposition – and how those things, in turn, relate to the system.
FETL, as an organisation, has a mission to promote leadership of thinking within the further education sector and system, and a responsibility to support leaders in reflecting on their own internal drivers and the deep impact the system, with its frequents changes, has on them. But it is not enough simply to acknowledge that the second domain matters. We must understand also that these two domains cannot be separated. We must look at both things together if we are to understand fully how policies work and what interventions are likely to be successful. As the biologist and systems theorist Ludwig Von Bertalanffy reminds us, the outcome of any action depends as much on the state of the object acted upon as the action itself.
With leadership comes a deep – and, often, deeply felt – responsibility to scrutinize our human and moral drivers, our frailties as well as our strengths, and to learn from what we find. Dealing positively with critical scrutiny is a big part of leadership, particularly where leaders are both authorised and responsible for spending significant amounts of public money. In the exercise of these duties, leaders must be consciously capable of reacting constructively to questioning and criticism, where appropriate, and of learning from their mistakes. Indeed, and crucial to our role, leadership brings also the equal, serious duty to point out – with evidence – that frequently the systems they introduce are ill-fitted, often distorting and engendering unacceptable behaviours.
However, as the authors of this paper suggest, the level and nature of scrutiny in the further education sector has sometimes gone beyond what is fair or justified, helping create a culture of fear and anxiety in which honest but struggling leaders might be reluctant to admit vulnerability or to reach out for help.
In further education, the feeling of isolation leaders sometimes experience in reacting and coping with the rapidly changing agenda of the sector (and shielding staff from the worst impact of these anxiety-inducing shifts) is compounded by a highstakes system of accountability, a climate of near-constant policy turbulence and a decade of funding cuts. And when things do go wrong, the judgement upon sector leaders is often under-analysed, harsh and unforgiving, and sometimes personal and even abusive.
As FETL has argued elsewhere, this does not create an environment conducive to far-sighted, open, learning and collaborative styles of leadership. In many cases, it produces leadership that is introverted, authoritarian and focused on short-term goals in preference to the long-term needs of students and their communities.
This paper – and a further, complementary paper that will follow – aims to address these issues, and to put organisational shame on the FE agenda. It does not mean to give concretesolutions to these problems. Its purpose instead is to stimulate more discussion and to give that discussion a framework, grounded both in academic research and in the concerns of sector leaders. It is good to hear the voices of sector leaders raised in this context. This is not an easy topic and I would like to express my appreciation of those leaders who took part in the interviews and shared their own experience of shame and shaming.
The COVID-19 pandemic reminds us, among other things, of the importance of social and systems solidarity in 'leaderhood' and the shared nature of our responsibilities to our organisations, our society and our learners. When shaming goes public, its livery is worn by all in the system, and it is surprisingly long lasting in its fabric, nowhere more so and much to the disadvantage of learners.
It is also an attack on learning. We can do better.
Dame Ruth Silver is President of the Further Education Trust for Leadership
Download >