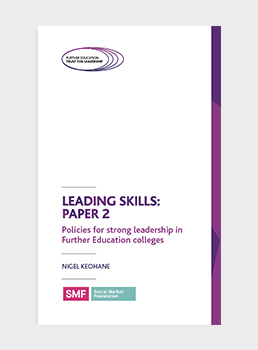 Leading Skill: Paper 2 Policies for strong leadership in Further Education colleges
The Further Education Trust for Leadership exists both to strengthen the quality of leadership in further education and to contribute to the creation of conditions within the sector in which knowledge-enriched, creative and autonomous leadership can take place. We are delighted, therefore, to have supported this project, which has important things to say about how leadership in further education can be strengthened and supported.
The report is timely. It comes at a point when the further education sector is under unprecedented scrutiny, with a number of reports and commissions of inquiry asking questions about the future of FE, and the main political parties seemingly keen to tap into these ideas. However, it also comes at a time when sector leaders are under huge pressure and the recruitment and development of leaders is proving challenging.
The report does two things I particularly like. First, it locates sector leaders within local systems, and acknowledges their important role in their local community, within networks to which they should be seen as key contributors. The government needs to think further about how this kind of collaboration can be supported. Second, it appreciates the challenges leaders in further education face, and the factors that can lead to leaders being isolated and demotivated, and makes concrete recommendations to address them. These have both been important strands of FETL's own work in recent months.
Download >