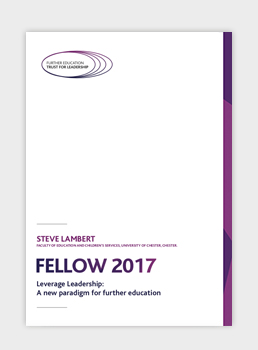 Leverage Leadership: A new paradigm for further education
FETL FELLOW 2017: STEVE LAMBERT
FACULTY OF EDUCATION AND CHILDREN'S SERVICES, UNIVERSITY OF CHESTER, CHESTER.
The purpose of this article is to review existing models of leverage leadership which are currentlyapplicable to schools to establish whether they are appropriate for further education colleges. Due to the complexities of the environment in which further education colleges operate and the scale of the organisations involved, models of leverage leadership have not currently been applied to this sector. The paper proposes that a new model Distributed Leverage Leadership is more suitable to further education colleges. Unlike existing models which are predicated on the head of the organisation adopting the principles of leverage leadership, Distributed Leverage Leadership suggests a shared responsibility between senior and middle leaders. The model is predicated on a notion of forensic analysis of data, regular observations of learning, building a culture of high expectations and accountability.
Download >