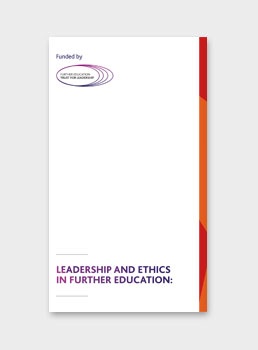 Leadership And Ethics in Further Education
The work was undertaken as part of the Post-16 Policy and Practice research group at the University of Hull, School of Education and Social Sciences.
As colleagues know, FETL responds to ideas brought to it from colleagues in and around the FE and skills system and does so both to harvest the intelligence and curiosity that arises from everyday experiences of leading this fast-moving sector and to harness what is wise in order to make footprints for the future. This excellent report, the second and final of a project funded by FETL and carried out by colleagues at the University of Hull, is very much in line with these intentions: it listens carefully to the experiences of sector leaders and explores critical issues concerning ethics and leadership in a style that is both creative and collaborative. As an organisation, FETL is committed to providing space within which leaders from the further education and skills sector can come together, discuss new ideas and find new ways of conceptualising them. We seek both to provide nourishment for our best brains and to work together with them to give their own ideas shape and form. For that reason, we have been pleased to support a project which not only reflects the varied pressures and challenges to which sector leaders are exposed but also examines them through a theoretical lens, grounded in a wide-ranging review of the relevant literature.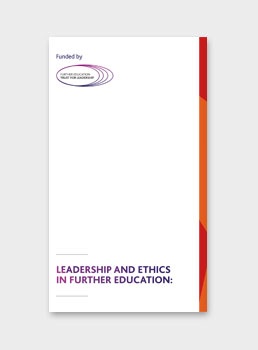 Download >